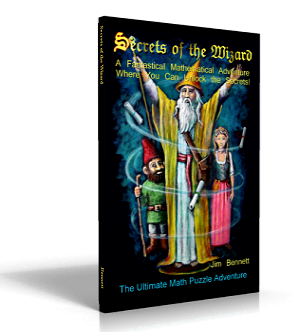 The Ultimate Math Puzzle Adventure
Teachers: Strengthen Your Students' Word Problem Solving Skills
Using this "Math Can Be Fun" Adventure Story!

Secrets of the Wizard is a fantasy adventure for anyone (age 12 and up) who loves solving math puzzles. It tells the story of the good wizard, Galimedes, and his two faithful helpers as they try to recover the lost scrolls of time and seasons that were stolen by the evil magician, Zarvildar. The story is packed full of action and suspense.

The pages of the story are scrambled and renumbered (so only the worthy will gain access to the secrets). Indeed, only by solving the math puzzle on each page will you know the number of the page to read next. There are 99 math puzzles altogether!

There is also a hidden secret message which you can spell out by stringing together the first letters on each of the pages when they are read in the correct order. This message will reveal the wizard's greatest secret.

There is an appendix with hints and a second appendix with the answers written in a simple substitution code so that a quick peek is not likely to reveal the answers.

The author's goal is to combine math puzzles with a great story that will keep you on the "edge of your seat." There are frequent "cliff-hangers." Only by solving the math puzzles will you find out what happens next.

Secrets of the Wizard should be of tremendous interest to anyone who enjoys fantasy stories and/or the challenge of solving math puzzles. Teachers and tutors who need enrichment materials as well as parents who want to encourage their children's interest in math will find this book to be a great resource.

Jim Bennett, AKA "Integer Jim," is a semi-retired middle school math teacher. In addition to being an award-winning math teacher with 36 years experience, he is an acclaimed artist and writer. He previously wrote Calligraphy For Dummies, Calligraphy for Creative Kids, and The Algebra Journal.
In 2003 he was named Educator of the Year by the Southeastern Ohio Art Education Association. He has also developed a number of math lessons based on the Bible. His website is mathsquad.com.

Secrets of the Wizard by Jim Bennett is available at Lulu.com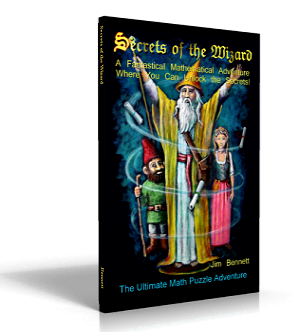 CLICK HERE Order in time for school to begin!
Have you played my free, online adventure game?
There are magical math puzzles, mazes, secret codes, hidden messages, and word search challenges.
You could be the winner! Play Quest for the Golden Calculator

---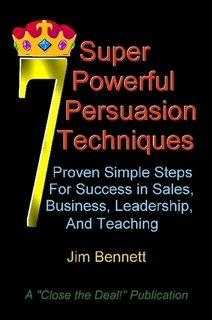 Be convincing and persuasive when you talk to people!

This is a key to success in sales, running a business, speaking in public, or teaching others.
This little booklet presents the author's most powerfully persuasive techniques. It's short and to the point so it can be read in one sitting. That way you can start right away using these powerful techniques!
CLICK TO SEE MORE!
NEW! From the Riverflow Press - Special Antiquarian Reprints & Books of Unique Interest
We feature inexpensive, quality paperback editions of out-of-print books - books that are entertaining to read.
We are members of the Independent Publishers WebRing.


ETIDORHPA is a 19th century adventure which interweaves fantasy, science, secret societies, and hallucinogenic mushrooms! Lavishly illustrated with beautiful J. Augustus Knapp drawings and paintings. Newly edited (not abridged). To preview this incredible book CLICK HERE. Download FREE and read the first 85 pages of the story! CLICK HERE

HARMONIC LAWS OF THE UNIVERSE is a richly illustrated treatise selected from a famous 19th century book on color and design. The author explores the harmonies that exist in nature and art and their relationship to spiritual truths. To read more about this wonderful little book CLICK HERE.

VITALITY SUPREME, first published in 1915 and written by Bernarr Macfadden, an early "health guru" who was well ahead of his time in his understanding of whole foods and exercise, shows how to gain health and vitality through a series of unique exercises as well as diet, etc. This book is full of old photographs, mostly of Macfadden himself, demonstrating how to do the exercises. To read more about this classic book on health CLICK HERE.

THREE GREAT REMEDIES OF NATURE - another very early Macfadden book. This book covers fasting, exercise, and hydropathy (water therapy). "Three Great Remedies" is also richly illustrated with many old photographs. (Note: original copies of this book are highly collectible.) To read more about the Riverflow reprint CLICK HERE.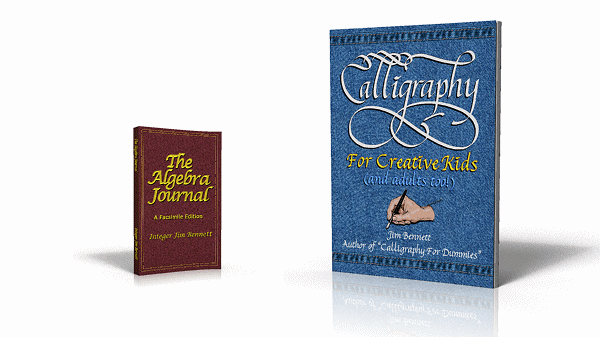 The Algebra Journal is a facsimile of a handmade 210-page journal which can be used by teachers as an example to inspire students to create similar journals. It has 4 types of content: Instructional content, researched math topics (history, biographies, and topics of interest), Diagrams, charts, and illustrations, Pages of the students' choice math-related topic. For details and a preview of inside CLICK HERE.
Calligraphy For Creative Kids (and adults too!) is a simple, how-to, instruction book, written mainly with children in mind but will teach anyone of any age how to become an accomplished calligrapher! The book, penned entirely in a calligraphic hand, begins with an explanation of how to select the right pens, inks, and paper. Then it introduces the Italic alphabet, a beautiful and highly versatile alphabet. Next, are examples of Italic flourishes and sections on Blackletter (particularly useful for certificates) and drawn letters. The book ends with an impressive list of creative projects. This is a simple, straight-forward and profusely illustrated calligraphy practice book. The author, Jim Bennett, wrote Calligraphy For Dummies. To see more CLICK HERE.
An offering of products and information.


Bennecelli's Lithograph of the Nautilus (framed and unframed)
---

Click on the picture and receive a funny face each week by e-mail! Collect all 52, goofy, weird, and funny cartoon faces for your amusement and enjoyment. Use the funny faces for any purpose you like. Laugh at them, color them, modify them, give them to friends, use them as dart boards. They're great fun.
This is dedinitely my kind of weight loss system because I love smoothies!


CLICK on the screenshot at the left and visit my website dedicated toThe "Father of Physical Culture,"
Bernarr Macfadden.

We use these products ourselves and recommend these to all our friends.
Take a look!

The VITA-MIX Machine - The ultimate all-purpose appliance for better health
FOR VISITING RIVERFLOW.COM YOU QUALIFY FOR FREE SHIPPING IF YOU ORDER!


I teach math, and this is one of my math sites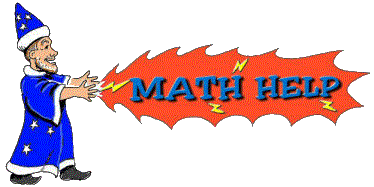 Check out the Math Help Wizard!
He has free videos and help with
Fractions - Decimals - Percents
Our Favorite Exerciser
This is the simplest, easiest, and most versatile exerciser ever invented!
It makes a huge difference. We truly love it!





Simply Raw DVD
The amazing documentary about the health effects of a raw food diet
and how it can reverse diabetes (and other health problems).








You may like to visit my other web sites: mathsquad.com, studioarts.net, LearnFractions.Org, mathhelpwizard.com