Bernarr Macfadden (1868 - 1955), internationally famous during his lifetime but almost unknown today, called the "Father of Physical Culture," nicknamed "Body Love" Macfadden by Time magazine, was a flamboyant personality, true visionary, millionaire publisher, and life-long advocate of physical fitness, natural food, outdoor exercise, and the natural treatment of disease. He inspired millions of people around the world to live healthful and vigorous lives. He was branded a "kook" and a charlatan by many, was arrested on obscenity charges, denounced by the medical establishment, and campaigned tirelessly against "pill-pushers," processed foods, and prudery.
It is to the memory of Bernarr Macfadden and his many achievements that this web site is dedicated.


The photograph below shows Macfadden when he was about 65!

EARLY YEARS || WEAKNESS - A CRIME || PERFECT WOMAN - PERFECT FAMILY || A PUBLISHING EMPIRE || HEALTH CRUSADER || FAME - FORTUNE - FOLLY - FAILURE || FINAL YEARS || RESOURCES-LINKS-MACFADDEN STUFF

PLEASE FOLLOW ME ON SOCIAL MEDIA

Muscles, Sex, Money, & Fame
A spectacular pictorial biography of the amazing life of Bernarr Macfadden. With over 300 vintage photographs and illustrations. The most comprehensive collection of photos about Macafadden ever published in print!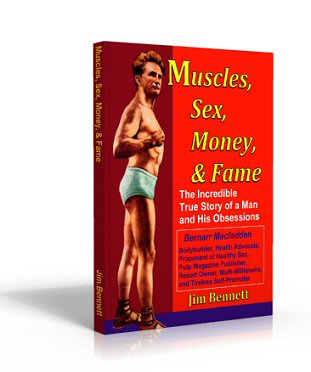 CLICK HERE TO READ MORE
Copyright © Jim Bennett
---

This site was created by Jim Bennett. Please request permission to use images and/or text.


Visit my other sites:
StudioArts.Net | RiverFlow.Com | MathSquad.Com





This site is a member of WebRing. To browse visit here.